Are we being watched?
As technology grows in order of magnitude, it becomes increasingly more within reason to propose outlandish claims that the likes of fine nano dust particle technology will exist or already does exist literally everywhere surrounding us — even in our bodies; so that those behind the scenes can access what we see, taste, touch, smell, hear, and even think. That's right folks: they are using our very own eyes as cameras to see what we see!
If atoms, molecules and diatoms et al. hold rather obvious mechanical properties, perpetual moving parts, geometry, and structure, etc., then, logic follows that nature too, in all of her great wild glory, must also be mechanical… in nature.
Is there any possibility that the military industrial complex and intelligence along with those above them can, over time, psychologically profile each and every one of us; that is, who is a "good" human being vs who is a "bad" human being, for the coming planetary harvest, simply by monitoring us with tiny imperceivable bio-mechanical sensors? Freaky, right?
Damn right it is!
Considering the Milky Way at 500,000,000 stars with one Universe at 1 trillion galaxies… that's 500 billion stars for each galaxy times 1 trillion galaxies, and applied with the Drake equation when we were not aware that many of the stars observed from Earth are in fact galaxies, plus the infinite multiverse theory, it becomes exponentially obvious that the possibility for extraterrestrial life is rather substantial. That's a lot of mass, matter and atomic sensors observing us.
Once we can fathom that we are an infinite number of versions of us out there, and we happen to be one of them, everything begins to make sense. Simple insights become apparent, like the revelation that every time we sleep… we die. Dying is only fearful like sleep paralysis in that it "hurts" because it is involuntary (we can't (easily) control it), and yet all that we must do is simply let go. After all, we don't really have bodies… so what is there to let go of? We more or less exist as some kind of unique plasmic energetic frequency signature, much like a fingerprint is to the human body, only… this fingerprint is plasma soul stuff; as it is when the body dies, and the fingerprint does not die… so it is with our genetic memory, or soul. Dying is in reality a natural process which allows for life; like when being submerged under water for a long time until that moment when we breath good air after all that time underwater — that's what dying is truly like.
There is no death; only a change of worlds.
~ Cherokee
Wikipidia definition of sensors
"In the broadest definition, a sensor is a device, module, or subsystem whose purpose is to detect events or changes in its environment and send the information to other electronics, frequently a computer processor. A sensor is always used with other electronics, whether as simple as a light or as complex as a computer.
Sensors are used in everyday objects such as touch-sensitive elevator buttons (tactile sensor) and lamps which dim or brighten by touching the base, besides innumerable applications of which most people are never aware. With advances in micromachinery and easy-to-use microcontroller platforms, the uses of sensors have expanded beyond the traditional fields of temperature, pressure or flow measurement,[1] for example into MARG sensors. Moreover, analog sensors such as potentiometers and force-sensing resistors are still widely used. Applications include manufacturing and machinery, airplanes and aerospace, cars, medicine, robotics and many other aspects of our day-to-day life.
A sensor's sensitivity indicates how much the sensor's output changes when the input quantity being measured changes. For instance, if the mercury in a thermometer moves 1  cm when the temperature changes by 1 °C, the sensitivity is 1 cm/°C (it is basically the slope Dy/Dx assuming a linear characteristic). Some sensors can also affect what they measure; for instance, a room temperature thermometer inserted into a hot cup of liquid cools the liquid while the liquid heats the thermometer. Sensors are usually designed to have a small effect on what is measured; making the sensor smaller often improves this and may introduce other advantages.[2] Technological progress allows more and more sensors to be manufactured on a microscopic scale as microsensors using MEMS technology. We observe that in most cases microsensors reach much significantly higher speeds and sensitivity compared to macroscopic approaches.
The amount of moving parts in a machine is a factor in its mechanical efficiency. The greater the number of moving parts, the greater the amount of energy lost to heat by friction between those parts.[3] For example, in a modern automobile engine, roughly 7% of the total power obtained from burning the engine's fuel is lost to friction between the engine's moving parts.[4]Conversely, the fewer the number of moving parts, the greater the efficiency. Machines with no moving parts at all can be very efficient. An electrical transformer, for example, has no moving parts, and its mechanical efficiency is generally above the 90% mark. (The remaining power losses in a transformer are from other causes, including loss to electrical resistance in the copper windings and hysteresis loss and eddy current loss in the iron core.)[5]Two means are used for overcoming the efficiency losses caused by friction between moving parts. First, moving parts are lubricated. Second, the moving parts of a machine are designed so that they have a small amount of contact with one another. The latter, in its turn, comprises two approaches. A machine can be reduced in size, thereby quite simply reducing the areas of the moving parts that rub against one another; and the designs of the individual components can be modified, changing their shapes and structures to reduce or avoid contact with one another.[4]Lubrication also reduces wear, as does the use of suitable materials. As moving parts wear out, this can affect the precision of the machine. Designers thus have to design moving parts with this factor in mind, ensuring that if precision over the lifetime of the machine is paramount, that wear is accounted for and, if possible, minimized. (A simple example of this is the design of a simple single-wheel wheelbarrow. A design where the axle is fixed to the barrow arms and the wheel rotates around it is prone to wear which quickly causes wobble, whereas a rotating axle that is attached to the wheel and that rotates upon bearings in the arms does not start to wobble as the axle wears through the arms.)[6]The scientific and engineering discipline that deals with the lubrication, friction, and wear of moving parts is tribology, an interdisciplinary field that encompasses materials science, mechanical engineering, chemistry, and mechanics.[7]"
Official United States National Nanotechnology Initiative
"Nanotechnology-enabled sensors are providing new solutions in physical, chemical, and biological sensing that enable increased detection sensitivity, specificity, multiplexing capability, and portability for a wide variety of health, safety, and environmental assessments. The Sensors NSI addresses both the opportunity of using nanotechnology to advance sensor development and the challenges of developing sensors to keep pace with the increasingly widespread use of engineered nanomaterials."
Online Etymology Dictionary definition of Mechanics
"Adj. Late 14c., "pertaining to or involving mechanical labor" (now usually mechanical), also "having to do with tools," from Latin mechanicus, from Greek mekhanikos "full of resources, inventive, ingenious," literally "mechanical, pertaining to machines," from mekhane "device," from PIE *magh-ana- "that which enables," from root *magh- "to be able, have power." Meaning "of the nature of or pertaining to mechanical machines" is from 1620s. N. Manual laborer," late 14c., from Latin mechanicus, from Greek mekhanikos "an engineer," noun use of adjective meaning "full of resources, inventive, ingenious," from mekhane "device," from PIE *magh-ana- "that which enables," from root *magh- "to be able, have power." Sense of "one who is employed in manual labor, a handicraft worker, an artisan."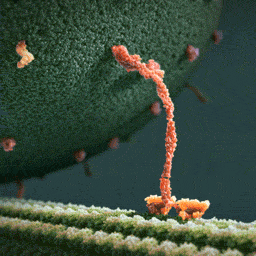 Motor Molecules
Above: The inside of a living cell has been compared to a train station at rush hour, with enzymes, chromosomes and other internal components constantly being shuttled along tiny fibrous tracks called microtubules. Unlike a congested city commute, cellular traffic is efficient and highly regulated — thanks in part to a group of proteins known as motor molecules that use microtubules to haul vital cargo through the cell. In 1985, biologists identified a molecular motor called kinesin that has turned out to be responsible for a variety of critical hauling jobs, such as separating chromosomes during cell division and ferrying neurotransmitters inside nerve cells. Studies have shown that while one end of a kinesin molecule holds onto its cargo, the other end uses a remarkable two-headed structure to grab the microtubule and pull the cargo forward — a process called "kinesin walking". There is a lot of interest in kinesin and how it works as a motor," says Stanford chemistry Professor W. E. Moerner. 
Ancient Scriptural Mentions On The Harvest
"The kingdom of heaven is like a man who sowed good seed in his field. But while everyone was sleeping, his enemy came and sowed weeds among the wheat, and went away. When the wheat sprouted and formed heads, then the weeds also appeared. "The owner's servants came to him and said, 'Sir, didn't you sow good seed in your field? Where then did the weeds come from?' "'An enemy did this,' he replied. "The servants asked him, 'Do you want us to go and pull them up?' "'No,' he answered, 'because while you are pulling the weeds, you may uproot the wheat with them. Let both grow together until the harvest. At that time I will tell the harvesters: First collect the weeds and tie them in bundles to be burned; then gather the wheat and bring it into my barn.
The very hairs of your head are all numbered. Fear ye not therefore, for ye are of more value than many sparrows. 
But of that day and hour knoweth no man, no, not the angels of heaven, but my Father only. But as the days of Noe were, so shall also the coming of the Son of man be. For as in the days that were before the flood they were eating and drinking, marrying and giving in marriage, until the day that Noe entered into the ark, and knew not until the flood came, and took them all away; so shall also the coming of the Son of man be. Then shall two be in the field; the one shall be taken, and the other left. Two women shall be grinding at the mill; the one shall be taken, and the other left."
~ Mathew
Micromacro Sensors
Cell
Have a good one folks!